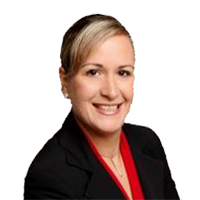 Jelena Urosevic, LLB
Partner
Jelena handles all types of Canadian immigration and citizenship matters, including litigation. She helps individuals apply for Canadian permanent residence or for temporary status as workers, students or visitors. She also assists Canadian businesses in obtaining authorization to hire foreign workers to fill their labour shortages.
Jelena immigrated to Canada from the former Yugoslavia in 1994. She developed an interest in immigration law and policy at an early age as she observed her mother's experiences as a skilled worker and the experiences of many other immigrants and refugees from her country. She has always been enthusiastic about helping individuals understand the Canadian immigration system and successfully integrate into Canadian society.
Jelena obtained her law degree from Osgoode Hall Law School in 2007 and was called to the Ontario Bar in 2008. She completed the Immigration and Refugee Law Intensive Program in law school, with a placement at the Immigration Appeal Division of the Immigration and Refugee Board. Throughout her education, she worked at the Public Prosecution Service of Canada and the Department of Justice Canada.
After starting her family, Jelena returned to the Immigration Law Division at the Department of Justice Canada as Counsel in 2010. For over six years, she represented the Minister of Immigration, Refugees and Citizenship and the Minister of Public Safety and Emergency Preparedness in hundreds of immigration, refugee and citizenship cases before the Federal Court of Canada and several cases before the Federal Court of Appeal. Her desire to help individuals understand the Canadian immigration system and the options available to them lead Jelena to leave public service and co-found Rashid Urosevic LLP.
In her free time, Jelena enjoys spending time with her husband and two kids, travelling, meditating and exercising.